Back to all posts
Posted on
Canmore Water Experience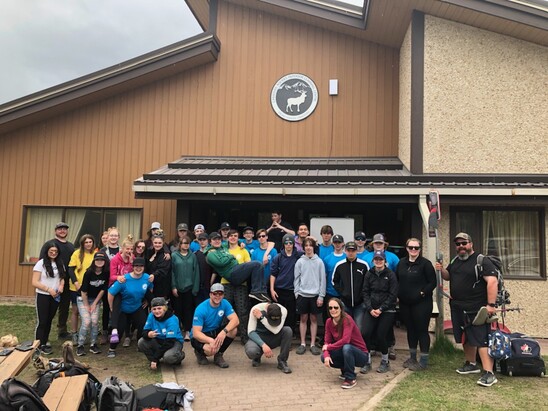 On the week of May 23 - 27, 33 grade 10 students from BCHS embarked on a trip to Canmore, AB to work with the Canadian Rockies Outdoor Learning Centre on the Water Experience 15 course. While there, students began each day at 7:00am, where they would get up, eat their breakfast, clean the kitchen and make their lunches for the day. At 9:00am, students would begin their daily lessons. Lessons began in the classroom, then moved to some form of outdoor learning. From their, they would return to the building for some free time, supper, then night class sessions that went from 7:00pm - 9:00pm.

On day 1, students participated in two different activities: Voyageur canoeing, where students were taught about voyageurs in the days of settlement in Canada. Students then had to try to paddle like a voyageur for 1 minute (voyageurs had to paddle 60 strokes/minute for 14 hour days). The second activity of the day was a pond study at one of the many lakes. When there, students learned about how the lake was formed by melted glaciers, they then were given "keys" to help them discover what sort of water life existed in that pond. The evening brought students back into the classroom to discuss paddling techniques and work on their daily journals.

On day 2, the students began their canoeing certification course. They were brought to one of the lakes and were taught basic canoe techniques on land before entering the water. They learned about parts of the paddle, boat, and all the equipment required to have a safe and successful paddling session. Their evening class was all about navigation and proper compass use techniques. They spent time in the classroom learning how to use a compass and how to properly find your bearings. From there, they were sent out into the wilderness for an orienteering scavenger hunt where they had to answer questions about the things they had learned throughout the day.

Day 3 brought the students back to the water to practice their newly acquired canoeing techniques. Students were given more instruction on how to better their performance on the water. They then pulled up on shore where they learned various knots and shelters. The assessment for this activity was emergency shelter scenarios. Each group was given a certain scenario, one tarp, one large rope, and four small ropes. They had to use this to decide which shelter would be best suited for the scenario presented. They then headed back to the water to take part in the canoeing obstacle course which would count as their test for certification. Every student that attended this trip passed and is now certified with Paddle Canada. Heading home, the night class focused on finishing off student journals and packing for the trip home.

Day 4, our final day, focused on dams, hiking, and wildlife. Students were taken to Barrier Lake where the instructors discussed how the dams work around Canmore, why some lakes need to be kept low (to prevent floods), and what happened in Canmore before they introduced some of the dams. Students then went on an 8km hike where they were taught about the mountains, lakes, and wildlife. Halfway through the hike, our instructors formed a community circle where students had to discuss three important things: 1. What was a highlight of the trip, 2. What is something new you learned, 3. Who, in your group, is someone you appreciate and why (each person could only be picked once, so everyone was appreciated). We then hiked back to the Canadian Rockies Outdoor Learning Centre, boarded the bus, and came home.