Back to all posts
Posted on
Modernization Project Update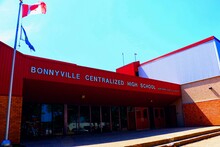 Dear Parents,
On behalf of the Northern Lights Public Schools Board of Trustees, I would like to express our appreciation for the patience and understanding you have shown during the ongoing uncertainty with the BCHS modernization project. We know there has been a high level of confusion about the status of the project and the length of time students will spend out of the school, as well as frustration that the students were relocated and construction did not start when anticipated.
The Board is disappointed with the lack of progress made on the project to date. Throughout the process, our goal has been to provide students, parents and staff with as much information as possible about the project and timelines. Each time we have communicated with you, we have provided the best information to you that we had at the time. Unfortunately, due to circumstances beyond our control, the timelines we were provided have not been met.
The latest update we have received is that the project has gone to tender. Once the tender process is complete, we expect to get a better idea of when construction will start and what the phasing of the project may look like.
As you are aware, we worked with Alberta Infrastructure to ensure students could remain at the Centennial Centre until the end of the 2019-2020 school year. If progress on the project continues to experience delays, one option we will be exploring is the possibility of extending the relocation period beyond this year. This will include asking Alberta Infrastructure to cover the costs of the relocation above and beyond what has been allocated for the modernization of the school. We do not want the scope of the work being done at the school to be reduced due to relocation costs.
At our December 13th board meeting, we discussed our concerns about the project with Bonnyville-Cold Lake-St. Paul MLA David Hanson. We are appreciative of the work Mr. Hanson has been doing to move this project forward and his commitment to advocate on our behalf for relocation costs to be covered separately from the overall project. We are hopeful that by working together there will be a positive resolution to this issue.
We want you to know that we share your concern and frustration with the way this project has unfolded. Moving this project forward is one of our top priorities and we will continue to work with the provincial government to ensure the project proceeds and that, once completed, it meets the needs of our students and community.
As updates become available, we will continue to share them with you via email and on the BCHS website.
Thank you for your understanding and support.
Sincerely,
Arlene Hrynyk, Board Chair
Northern Lights Public Schools