Back to all posts
Posted on
Modernization Update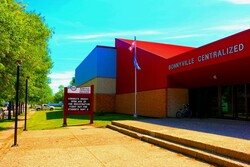 WE ARE AL VERY EXCITED FOR THE RETURN IN SEPTEMBER 
Previous post:  In our last update on the BHCS modernization project, we were expecting that students would be able to move into a nearly complete facility in April.
We were informed in January that the school would not be completed to the level that had been originally anticipated by April. While the classroom section of the school should be ready by then, other areas of the school will not be complete and it would be challenging to have classes resume in the school while these areas are still under construction.
As BCHS students have already experienced a great deal of upheaval due to having to relocate to the C2 during construction, as well as dealing with COVID-19, the NLPS Board of Trustees and administration was concerned about the mental health impact on students, and felt it was unacceptable to expect students to return to a school that was not complete.
Working with Bonnyville-Cold Lake-St. Paul MLA David Hanson, NLPS was successful in getting approval for students to remain at the C2 for the remainder of the 2020-2021 school year, at no additional cost to the school division. We appreciate MLA Hanson's support on this issue and his advocacy for our students.
Progress is being made on the project on both the exterior and interior. New windows have been installed in the classroom wing and work has already started on the interior of the classrooms. Exterior work will continue on the east side of the school as well as the new gym. 
As the project gets closer to completion, we will share photos of what the inside of the school looks like. We look forward to welcoming students to the school for the start of the 2021-2022 school year!