Tinikling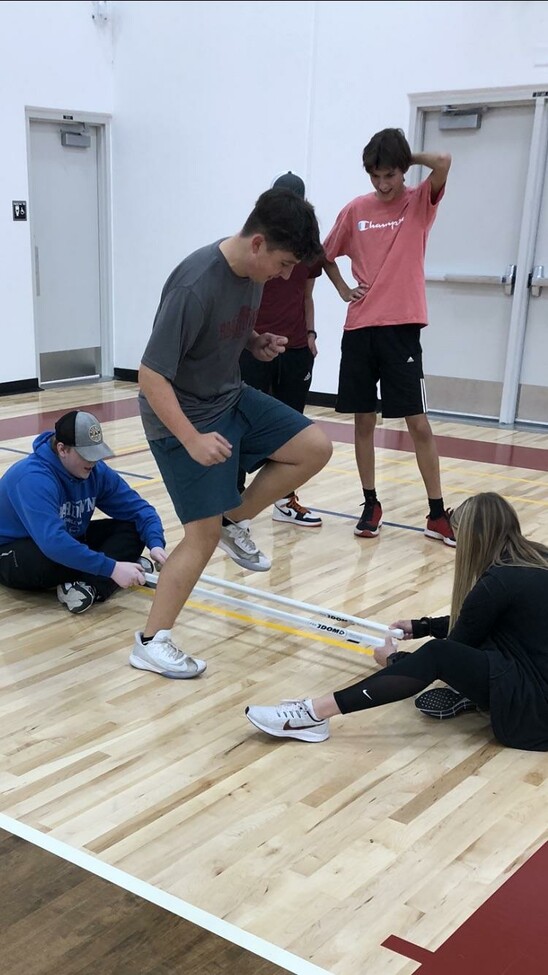 Students learning various cultural dances in our Phys. Ed program. Here we see our grade 10 students learning Tinikling.
Scholarship, Bursary and Award Winners
Scholarships, Bursary and Award Winners
Governor General Award- Sarah Ryll
Lakeland Credit Union- Michael Arabi, Kelsie Blain, Paige Bannerman, Emily Davediuk, Alissa Hutchison, John Neumann, Maddison Wolgien
Bonnyville Lions Club- Paige Bannerman
Inter Pipeline Discovery- Paige Bannerman
Northern Nishnawbe Education Council- Alex Pinhorn
Hill and Valley- Kelsie Blain
Duclos Hospital- Maddison Wolgien
Marvel College- Brook Graham, Katarzyna Cabay 
Academic Achievement
Congratulations to all our students on all their achievements over the 2020-2021 school year. 
Academic Achievement 2021 - 80% or above  in at least one Core Class
Grade 9
Sydney Albert          Areebah Arshad          Joey Bienvenu          Kennedy Carter
Jaren Conrad           Gage Dumais             Ethan Evans             Jordyn Farrer
Karson Gamache     Alexa Gamble             Triston Jacob            Claudia Khamis
Logan Lessard        Bryer Lucas-Sabatier    Rylan Metzner          Connor Rowe
Laura Ryll              Daniel Severyn            Easton Wakulchyk      Talia Wells
                            Avori Wheeler             Jessica Winchester 
Highest Average-Sydney Albert, Areebah Arshad, Easton Wakulchyk
Grade 10
Keigan Ballard                            Taylor Barrett                                            Zaxton Blake
Victoria Bokota                           Micah Boser                                      Phoenix Colbourne
Alyssa Davediuk                         Brooke Drapaka                                        Dylan Dumais
Lily Gavronsky                           Kaylie Gouliquer                                       Anthony Grant
Bethany Greffel                         Julian Gutierrez                                             Kalli Hilchie
Jada Kozicky                            Madison Miller                                                Cory Munro
Emma Naim                             Anysia Normand                                   Brandon Normand
Mckenzie Pettigrew                   Charlie Piercey-Bird              Zackariah Pitcher-Lumley
Brandon Potts                          Khalid Prince                                            Cooper Prybysh
Jase Reddekopp                       Sarah Tizzard                                                 Mason Wall
Alexandra Worthman
Highest Average- Madison Miller
Grade 11
Nicholas Amess        Courtney Anderson        Morganne Baxter        Eideann Cardinal
Dillon Driedger         Julian Gaunt                 Garrett Gensler                 Ava Hajdasz
Taylor Hansen         Hailey Hokiro                 Louie Holinaty                 Ryland Ilchuk
Jordana Kowerchuk Kailey Massick               Kaylee Picray                Sabrina Pricope
Connor Raketti       Brook Rondeau              Caleb Sartain            Nicholas St. Denis
J'dyn Thom            Brandon Thorne            Quincy Tizzard                Blaine Tkachuk
                            Nicholas Wagner           Jad Zouein
Highest Average- Sabrina Pricope 
Grade 12
Michael Arabi              Paige Bannerman              Ella Baxter               Chase Becker
Kelsie Blain                Zayden Blake                    Kelly Bowler                Kaden Buck
Katarzyna Cabay        Patience Colbourne            Parker Cox            Emily Davediuk
Mia DeFreitas            Miles Debler                      Kody Duckett         Jayden Gauthier
Michael Gavronsky    Julia Higdon                      Darby Higgins        Alissia Hutchison
Evan Kaban              Shayden Kozicky              Taylor Lessard          Aspen Marchuk
Kailin Mawer            Mikayla McCarthy              Elias Metzner       Amanda Nicholson
Tanner Normand      Jaydon Oestreicher           Amy Parenteau              Alexis Pretty
Alex Pinhorn            Sarah Ryll                        Natalie Scotton      Dennis Shymchuk
Emma Tercier          Natasha Theriault             Natasha Tienhaara        Karli Vasseur
Tyler Verrier            Robert Winchester            Maddison Wolgien      Jordyn Yaceyko
Highest Average- Paige Bannerman, Sarah Ryll